&nbsp
Everything You Need To Know About Grasses
Looking for a low maintenance landscaping option? Tired of having to mow and maintain your lawn? Need a great border plant? We've got the perfect solution – grasses and flax!
Designed by nature to grow where the wind blows, grasses and flax add movement and excitement to a planting scheme. Grasses are also extremely hardy and can survive (and thrive!) in a wide range of different temperatures and weather conditions. Depending on the variety you choose, you can always find a variety that is going to be more than happy to be planted where you need it to be, that's what makes them such a great option for landscaping.
Here we have two of our favourite families of grasses, the Carex and the Lomandra, plus a few of our top variety suggestions for each!
Carex
Did you know that there are over 1000 different kinds of Carex grass? Around 70 of those are also New Zealand natives! Carex is great for exposed areas, they love to blow around in the breeze. Most varieties grow in sun or semi-shade, although there are also varieties that love shaded spots and even damp swampy areas. Once the Carex is planted in the right location, they are very easy to grow and incredibly low maintenance. Before planting, simply ensure you know what levels of sunshine and moisture your variety needs, and then set and forget! When it comes to watering, simply water based on the weather conditions. Over time you will come to know when your plants could do with some water, but in the beginning, check the soil moisture levels often by touching the soil with your fingertips and water accordingly. Also, Carex plants require little, if any, fertilising or pruning!
Eversheen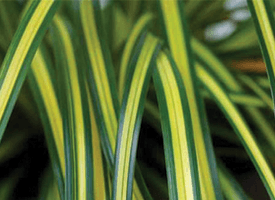 The Eversheen variety is a colourful year-round Carex. Perfectly suited for shade but can handle some sun in cooler climates. The Eversheen blends and sways well when planted among other grasses and also makes for a great edger.
Everillo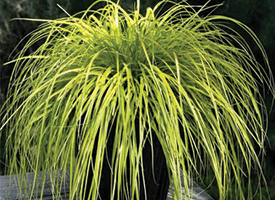 Cheery and bright! The Everillo features lime green progressing to bright golden yellow foliage. Best suited for the shade – use it to brighten up a shady path in your garden!
Feather Falls
One of the most hardy varieties, Feather Falls can cope in winter frosts and the heat of the summer. Whether it's in the greenhouse, enduring drought, or experiencing high levels of humidity, Feather Falls can cope with it all. Featuring lush green and white foliage and although it is intended for the garden, Feather Falls also looks great in hanging baskets and indoor planters!
Lomandra
Most grasses in the Lomandra family are suited to full sun or lightly shaded locations. Once they have become established, they are very tolerant of drought, but if you're going to be planting them in thick clumps, we definitely recommend giving them an occasional water. Although these grasses are tough, if they get damaged due to frost, high winds or simply over time, all you need to do is cut them back to 15 to 20cm from the ground and they will spring back beautifully. Just like the Carex grasses, the Lomandra varieties are incredibly versatile. They are more than happy to be in containers making them great a plan for bordering. Lomandra is also a great choice for outlining a pathway or even mass planting.
Lime Tuff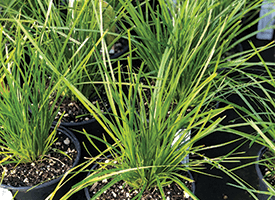 Lush all year round! That's what you get with Lime Tuff. Suited to cool temperatures, tropical and semi-arid climates, Lime Tuff can tolerate both frost and dry conditions! Best planted in full sun or partial shade, great for planting under trees to complete your ideal landscape look. Incredibly low maintenance in containers but also provide an amazing effect when planted en mass, you can really do it all with the Lime Tuff.
White Sands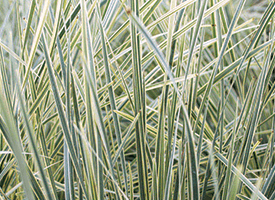 White Sands prefer to be planted in a sunny position in moist, well-drained soil. Their gorgeous white and green foliage is resistant to drought and rain. The evergreen White Sands truly is a standout in the garden with its long, thin strappy leaves. Why do they call it White Sands you ask? Because when the breeze hits, it moves softly creating a white sandy look. Great for a sunny patio or outdoor living area.
Echidna
This tough, low maintenance Lomandra grows to a rounded clump, about 30cm x 30cm. Native to Queensland's Sunshine Coast where weather conditions range from hot, wet, humid summers to frosty cold winters, the Echidna can handle it all. Once established, the Echidna becomes both drought and humidity resistant which other drought friendly plants often won't tolerate. The Echidna is hardy and versatile to most soil types, making planting easy.
Evergreen Baby
Evergreen Baby is one of the toughest grasses out there. No need to worry about wet feet with this one, Evergreen Baby is wet feet tolerant and drought tolerant. Perfect for growing on plains, dry slopes, near creeks and in full harsh sun as well as shade in a multitude of soil types. What more could you ask for?
Tanika
The Tanika is known for its graceful, arching foliage that is soft to the touch. This low maintenance grass is perfect for landscaping professionals and home gardeners alike! Plus, from April to October the Tanika produces lovely small yellow flowers. Just like the other grasses mentioned here, the Tanika is perfect for borders, specimen planting and mass planting. Thriving in full sun to moderate shade the Tanika will also tolerate drought and frost but be careful of those wet feet! Suitably planted in sandy, sandy loam and clay soils.