&nbsp
Our Bulb Buyer's Top Bulb Picks
Spring bulbs announce the onset of spring. Bulbs deliver a splash of colour, often accompanied with gorgeous fragrance. The flowers are unique and beautiful. Bulbs provide us with a season of vibrance, they are easy care and can be grown year after year. Many can be grown in containers, and while many thrive in the full sun there are few that also like shady positions as well. Here are our bulb buyer's top picks for this season:
Daffodil Soleil D'or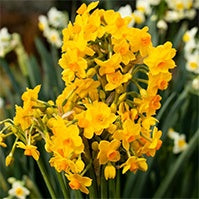 The Soleil D'or is a delightfully scented daffodil that flowers in early Spring. Each stem is comprised of many small, perfect flowers. This variety is easy to grow and is very hardy.
Ranunculus Mixed
Comprising of hues of white, salmon, gold, pink and red, the ranunculus, also known as the Persian Buttercup, are incredibly easy to grow and are great value for money. Ranunculus are quite showy and provide a long-lasting floral display. They're a perfect addition to your garden or plant in pots or containers to brighten your balcony or patio.
Dutch Iris Blue Wizard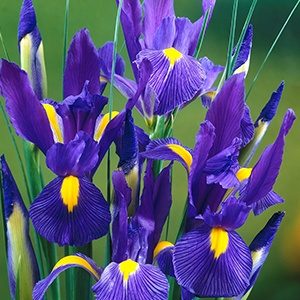 I love the uniqueness of the Dutch Iris. The blooms are simply stunning and Blue Wizard is no exception with the bold blue colour with splashes of yellow. They are borne on long, hardy stems and make a fantastic cut flower. Great late spring colour after all the other bulbs have finished blooming. A very reliable bulb that performs well in the garden.
Anemone St Brigid Mixed
I just love the mix of colours from white, pink, red and blue. They all completely complement each other. They are showy double blooms and are very pretty to look at. Plant en masse for loads of spring colour. Long lasting blooms that are great for use in flower arrangements. These flowers will brighten up any garden.
Our monthly garden newsletter is full of great tips to get you inspired, giveways and latest offers, plus we'll let you know of any special events, workshops or sales coming up. We never share your email address with anybody and you can unsubscribe at any time.