&nbsp
For many of us, the idea of creating gorgeous green spaces around our homes is nothing new, but this tends to happen outside. Historically, we may have often thought of indoor houseplants as the dust-covered domain of the elderly, or the perfect gift for Nana to put in the middle of her dining room table, however the idea of creating green spaces inside the home is the current hot trend in home decoration.
It seems that Nana was onto something, as houseplants have many positive influences, breathing oxygen into our home environments and softening our home environments by providing a welcoming message for various rooms. Not just for the home either, houseplants create a healthier space to work, as well as live in. Indoor gardens give any space a positive vibe and just make us feel good. Although many will have a favourite spot in your home or office, they are easy to move around too, allowing you to instantly transform the look of your space.
Did you know?! The humble peace lily is one of the most hardworking houseplants – naturally removing harmful pollutants as it purifies the air.
Fancy festive houseplants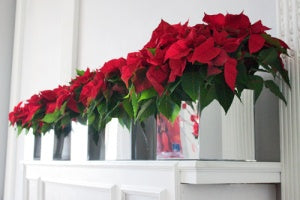 For the holiday season, it's time to deck the halls and get your place looking its best for visitors. This is an excellent time for houseplants to take a starring role in your homes' decor. You can't beat the classic poinsettia for an instant Christmas feel, and the new white leaf variety adds a modern touch instead of the traditional red.
Some of our other favourites include beautiful moth orchids, the colours are stunning and deserve to be admired in the best spot in your home. We also love anthiriums at this time of the year, for their easy care and ability to flourish and flower anywhere in the house.
Caring for your houseplants
Happily, most houseplants are easy to look after. Give them a good, slow-release fertiliser to support their energy levels over the first three months, to give them a burst of growth, with fresh, new leaves for you to admire. To maintain this growth and extend the flowering period of your plants, as well as the vibrancy of their colours, give them a regular treat of liquid fertiliser.
As we are heading into the warmest part of the year, remember to water your houseplants regularly. It's hard to give houseplants too much water, as they don't like to be dry, but do keep in mind that they don't like to sitting in a lot of water either.
Lastly, don't be afraid to polish the leaves, as a glossy leaf looks just awesome. We recommend a damp cloth to wipe the dust off their leaves or a can of leafshine also does wonders.