&nbsp
The new Gro-Sure by Kiwicare houseplant, orchid and cacti range is a recent addition to Palmers. We could tell you how amazing the product is, but we thought we'd get our very own indoor plant lover, Bec Wenzel to put the products through their paces. Read her reviews below:
I am a strong advisory in the collection and love of houseplants. I started my collection some time ago and have amassed quite a few of these treasured green friends.
As with any gardening, there is quite a learning curb. There are some plants that do well in bright light, some plants that need humidity and some plants that need to be moved around from time to time. But what all plants need to keep healthy is nutrition and water and some occasional medicine if the first two don't work.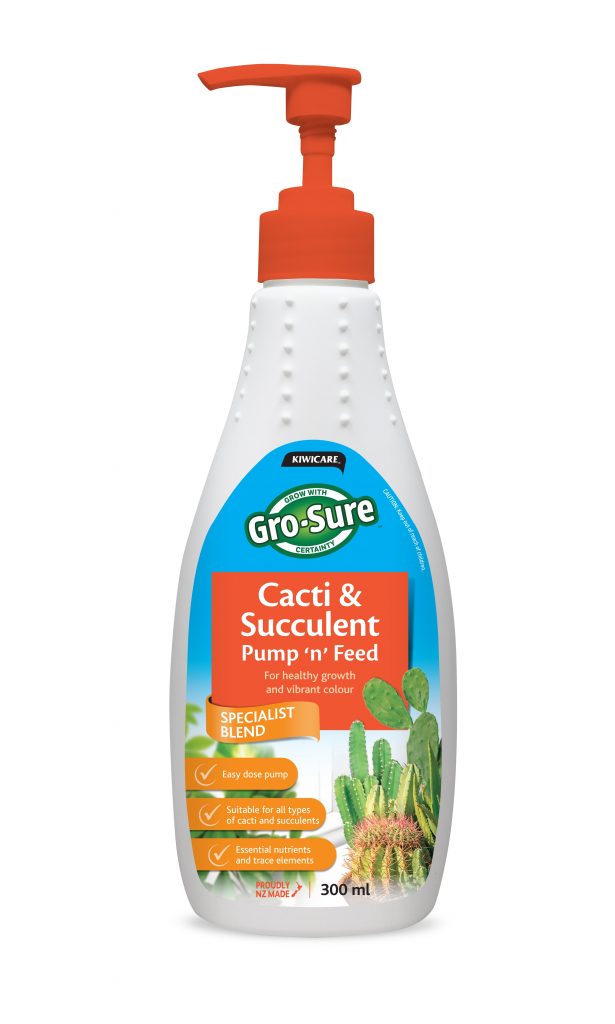 Recently I had the opportunity to try some of the new Kiwicare Gro-sure Houseplant range and I would like to tell you my experience with this product.
Cacti & Succulent Pump and Feed
I am so happy to have a feed that is solely for succulents and cacti, there are other products on the market, but I did find this feed easy to use with its one pump action. Even if you had a good collection of succulents, I believe this product would last you a long time as you use one pump in only 30ml's of water per plant. They then only require feeding once a month through the growing season. This fertiliser promotes flowering colour and vibrance. I fed a few of my succulents and especially noticed my Kalanchoe Freedom bells come out in a much more vibrant colour.
This was my favourite of the products, simply because I have so many houseplants and I am often looking for new alternatives to give them what they need. I loved the spray nozzle and how it sprayed in a super fine mist, spreading easily on the foliage of the plant, ensuring you get the coverage on the plant without using too much. I noticed a difference of the intensity of the green on the second feed. There is no smell and no mess from any dripping off the leaves. For someone with a lot of house plants it may not last long as misting once a week is recommended. Hopefully in the future a re-fill option will be on the cards as I would gladly purchase this product. For those with only a few houseplants this product would be ideal.
Houseplant Potting Mix
This mix was extremely light and fluffy, it felt good in my hands. It looks good. I re-potted two plants that had been struggling a little bit and they seem to be doing a lot better. Other potting mixes I have used have felt a lot heavier than that. The soil holds the water and has good drainage. For those purchasing the product it has slow release fertiliser for 3-4 months plus trace elements so your plants will get a good start to life in your home.
Houseplant Droplet Feeder
This is a great option for those that forget to feed their plants or simply do not have enough time. We are busy people these days! It is simple to use, you snip off the end and push it down into your plant and it feeds the plant for a month. This product encourages flowering and helps green up the foliage. I tested this product on my peace lily hoping to see a few flowers as I haven't seen a flower in a while. Unfortunately, I did not see any flowers but as we all know that may be other conditions as well such as not enough sunlight. However, I have never seen my peace lily have such a deep green gloss to the leaves so I was pleasantly surprised to see this reaction to the product and I believe if I keep using the droplet feeders perhaps, I will even see some blooms!
Watering Indicator Stick
I have never used an indicator stick myself but tested it in a few of my plants. I found it quite useful, and it will be especially useful for new houseplant owners and those that just struggle with watering. It is often so easy to under water and over water our plants and I believe this product could be a good option for many people. Place the stick in the plant, down by the root ball and once the stick changes from blue to red, it is time to water. You can see the stick start to change from blue to red over time which is quite cool. Easy Peasy.
Other products available in this range include Houseplant Pump n Feed, this may be a good alternative to the mister, especially for those with more houseplants than just a few like myself.
Houseplant Orchid Mist n Feed and Orchid Pump n Feed. For Orchid lovers this is an easy way to feed orchids and get them producing more blooms.
Also available is Houseplant Insect Control spray, a natural insect spray for our houseplants. A less harsh option for our inside green friends.