&nbsp
Perfect Petunias!
Petunias have to be an all-time favourite for instant garden colour, with their velvety trumpet-shaped blooms, and wide array of colours. This spring, why not try adding some of these stunning varieties to your garden.
Petunia Amore King of Hearts
The King of Hearts petunia features regal-red and white blooms, each with five perfect, clear-red hearts highlighted by bright white. King of Hearts flowers early, with a mounding habit and large blossoms that show good resistance to rain.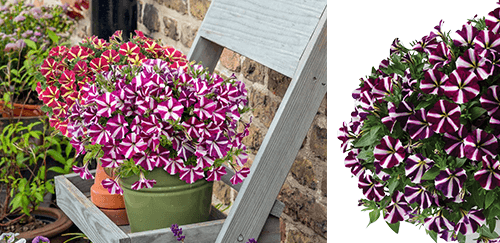 Petunia Amore Fluttering Hearts
A striking purple and white Petunia that will provide your pots, containers or hanging baskets with colour all season long. Each bloom is adorned with perfect purple hearts that will win yours. Plant or place in a sunny spot in well drained soil.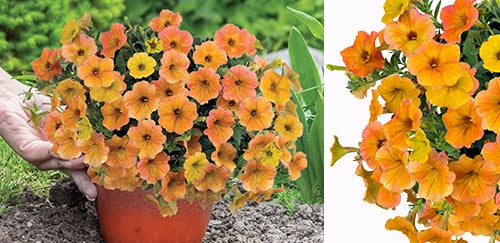 Petunia Indian Summer
Orange petunias are not often seen. Breeders in Israel have come up with the fantastic new Petunia Indian Summer that has shades of yellow and orange in one bloom.
Fill a basket or pot with bold colour that lasts all season long.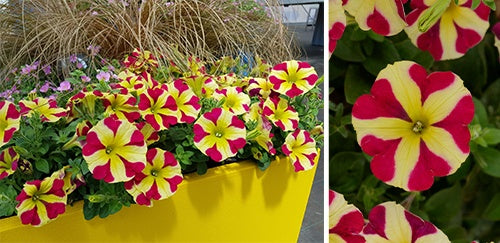 Petunia Amore Queen of Hearts
This Petunia will make you sit up and take notice! A happy circus of colour, you'll fall in love with this bi-colour petunia. Each flower is surrounded by five small red hearts. Now if that isn't charming, we don't know what is!
Its semi-trailing habit and long performance make it perfect for containers and baskets or can be grown in a flower bed like any other petunia. The Amore Petunia will flower all summer and requires no deadheading.
Petunia Curacao
This exclusive Petunia provides tight mounds of violet/blue flowers that will look fantastic in pots, hanging baskets or straight in the garden. Petunias love a good sunny spot but will also grow in slightly shaded areas.
If you want to add something special to your garden this year, this is it!
Petunia Rose Star
Rose Star is the next big development coming out of the petunia breeding programme. Rose Star is very easy to care for and is a strong grower. Ideal for hanging baskets, pots and garden beds. A show stopping addition to your garden.
Petunia Violet Bouquet
Violet Bouquet is a strong growing petunia with purple two-toned flowers. Perfect for bigger pots or to fill in that vacant spot in your garden. This variety has been grown and tested in New Zealand conditions for 2 years and has come up trumps, you will not be disappointed!

Petunia Red Blues
One of the most vibrant red petunia's available, Red Blues has beautiful trumpet shaped flowers that stand above its foliage. With mounding growth habit, it works well in pots on the patio or as a border in the garden.