&nbsp
Show off your favourite Plant Child and be in to win!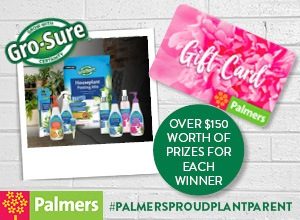 Forget food photos and furbabies, plant parents this one is for you!
Snap a photo of your favourite plant child (or children) and upload to Instagram or Facebook with the hashtag #palmersproudplantparent to be in to win.
We have a houseplant prize pack to give away thanks to our friends at Gro-Sure PLUS a $50 Palmers Gift Card for three winning plant parents!
So, if you have a cute cacti, a magnificent maidenhair, or an awesome orchid, find their best side and get in the draw!
We've narrowed down our Top 5, but we need you to help us decide on our three winners. Head on over to our Facebook or Instagram pages to cast your vote. Voting closes 10am on Thursday 19th, winners will be announced on Thursday evening.