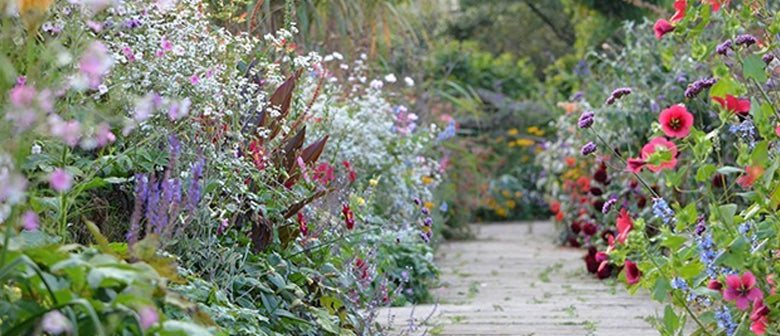 A cottage garden, also known as a romantic garden, is where old and new plants mingle together. This style of garden is for people who love having flowers to pick, who enjoy a rambling, informal garden and enjoy pottering around discovering 'garden treasures'.
A cottage/English garden recreates the past. Paths and low hedges of lavender or buxus, self-sown gems such as aquilegia, pansy and viola, topiaries to lead you around corners, old fruit trees, roses, jasmine and honeysuckle smothering gateways, and pots or urns as centrepieces.
Garden features add to the appeal of the cottage/English garden. Define the area with a rustic picket fence, meandering brick or stone paths, pergolas to support rambling roses, the use of terracotta pots and statuary throughout, rustic furniture, nesting boxes for birds and a water feature.
Most importantly, make sure there is a sitting place – a rustic seat or gazebo – in a tranquil corner to enjoy the heady fragrance of stock, nicotiana, jasmine, and honeysuckle on a summer evening. This style of garden will suit small gardens, older-style houses and rambling villas.
Planting a cottage garden is fun. There are no rules or set ways of going about designing a romantic, cottage garden. Gardens can be angular and trimmed with topiaries, neat hedges, brick paths, and antique flowers, or a riot of colour, unrestrained, rambling, perfumed, combining nasturtium, jasmine and dahlias.
Plants for the romantic garden
Trees
Maples (acer palmatum and varieties), weeping silver birch (betula pendula), magnolias – deciduous and evergreen varieties, citrus, weeping silver pear (pyrus salicifolia "pendula"), flowering cherries – weeping and upright varieties, flowering almonds, peaches, plums, apricots, crabapples (malus).
Shrubs
Adenandra (China flower), azalea, boronia, buxus (English box), camellia, ceanothus (Californian lilac), choisya (Mexican orange blossom), cistus (rock rose), daphne, hebe, hydrangea, lavender, lavatera, philadelphus (mock orange blossom), pieris (lily of the valley shrub), roses (bush, hybrid tea, floribunda, climbers, old fashioned and miniature).
Bulbs, perennials and annuals
Acanthus mollis (bears breeches), achillea (yarrow), ajuga, alchemilla mollis (lady's mantle), hollyhock, anemone, alyssum, aquilegia, antirrhinum (snapdragon), arenaria (sandwort), calendula, campanula (bellflower), wallflower (cheiranthus), cosmos, daffodils, dianthus, delphinium, foxglove, euphorbia, helleborus, iris, lobelia, day lily (hemerocallis), lilium, nasturtium, nicotiana, paeony, poppy, primula, primrose, polyanthus, phlox, pansy, scabiosa, veronica, viola, ranunculus, tulip, sweet pea, lupin.
Climbers
Clematis, carolina jessamine (gelsemium), hardenbergia, honeysuckle (lonicera), climbing hydrangea (hydrangea petiolaris), ivy (hedera), jasmine, pandorea, mandevilla, roses, virginian creeper (parthenocissus), wisteria.
This list is by no means comprehensive. ask one of our friendly, expert staff in store for more specific information for your garden or area.