&nbsp
Spring Planting – The Modern Day Gardener
Spring is in the air and I think that makes all of us gardeners pretty excited.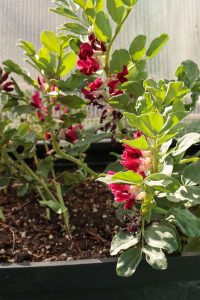 As a beginner gardener with not a lot of space I'm still learning the ins and outs of growing in the city so here are some of my favourite plants for spring that are pretty hearty and low maintenance.
 Here are my top picks for my spring garden:
Strawberries – such a satisfying crop! They're easy to pop in – use a little bit of strawberry food, soil and some strawberry straw. Strawberries are perfect for hanging baskets and they look great too! Once you buy one strawberry plant you can get more from planting runners and you only need to replace them every two to three years.
Sugar Snap Peas – a taste of sunshine that's for sure! I remember growing up eating these straight off the vine and my adulthood is no different. If you don't like peas, eating a sugar snap straight off the vine will change your mind – they are deliciously sweet. I usually pop these straight into a pot and use bamboo sticks from Palmers for them to climb up.
Broad Beans – This year I have put Hughley Crimson broad beans in and I love the colour they have brought to the garden especially after a long winter! It's always great to keep some of your broad beans and dry them out for growing next year.
Lavender – After having trouble with lavender for some time the team at Palmers sent me one of their latest varieties, Lavender Razzleberry and I have not looked back! Lavender is easy to grow in pots, it brings all of the bees into the garden and they look gorgeous. It's easy to get caught up in the veges, leafy greens and fruits when you have limited space but we all need flowers in the garden.
Greens – spring and summer is the best time for fresh salads so getting in your favourite salad greens and herbs now will help you get a head start! I love growing salad greens in my vegepod and have little pots filled with herbs.
Seed Potatoes – Getting potatoes sorted now will hopefully have us all enjoying potatoes for Christmas. I picked up two bags of Cliff's Kidney seed potatoes from Palmers and had them chit before planting, which will be after the last frost. Getting some potato grow bags is great when you don't have garden beds to grow in, all you need to do is top up the soil as the potato plants grow.