&nbsp
Palmers Garden to Kitchen with Emma Galloway: Emma's Spring Salad
As part of my Garden to Kitchen series with @palmersnz today I'm sharing this beautiful spring salad, made using lettuce from the garden and all manner of tasty bits and pieces on top. If you're someone who has felt let down by home grown lettuce in the past because it's not crisp when you pick it, go check out my tips on stories today for ensuring beautiful crisp, crunchy, full-flavoured spray-free salad greens straight from your garden to plate, and if you'd like my tips on growing lettuce in pots, go watch my IGTV video from a few weeks ago.
NOTE: I've saved all my stories from this series to highlights under PALMERS for future reference. #palmersnz #gardentokitchen, view them here
Spring Salad
Serves 4-6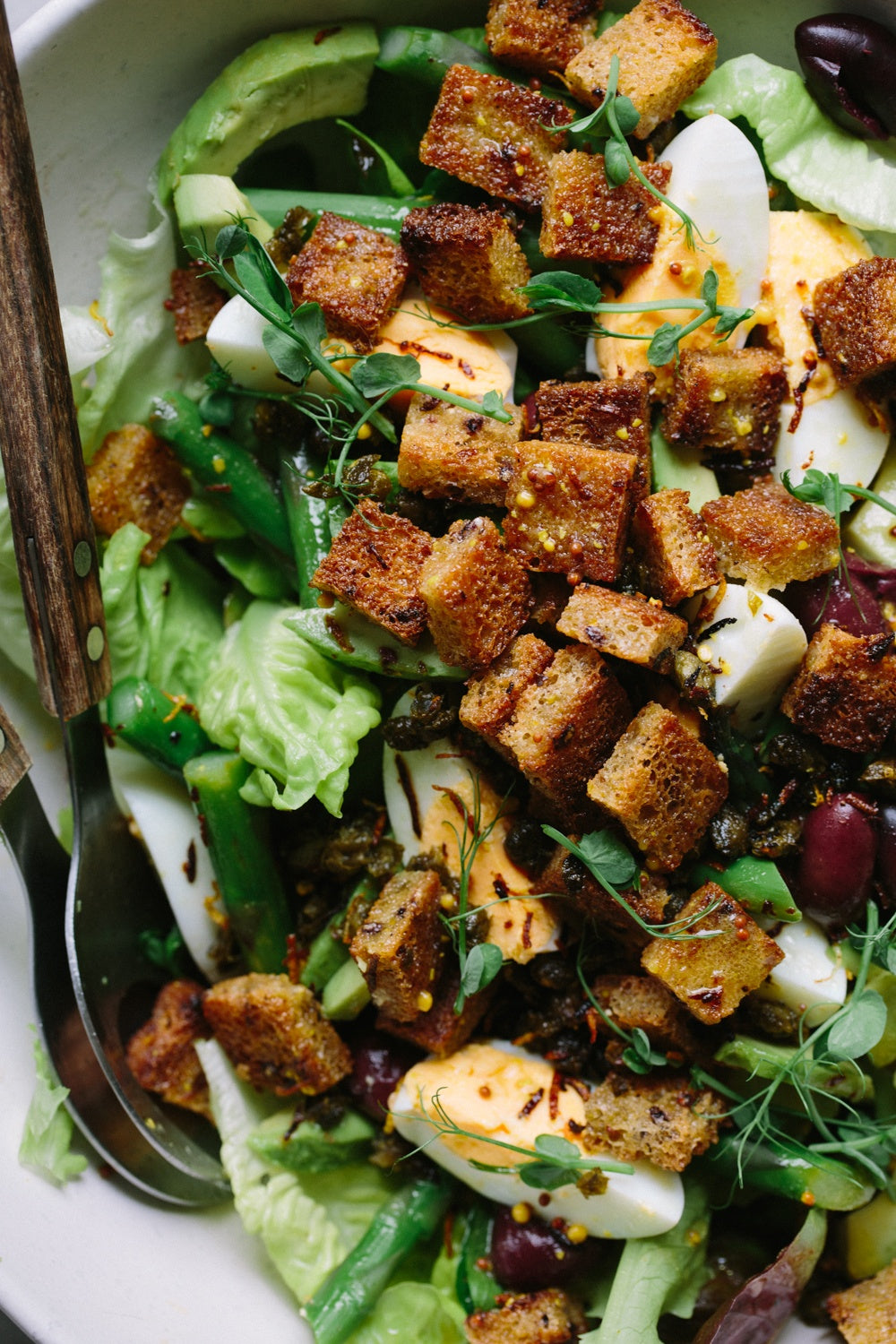 4 big handfuls baby lettuce leaves, washed and spun-dry
250g bunch asparagus, ends trimmed, halved
Olive oil
3 tablespoons capers, drained and patted dry
4 slices gluten-free bread, crusts removed and cubed
The finely grated zest 1/2 lemon
1 ripe avocado, roughly chopped
1/2 cup Kalamata olives, pitted
3 large free-range eggs, hardboiled and quartered
Pea shoots or microgreens, optional
Lemon mustard dressing
1 teaspoon Dijon mustard
1 teaspoon wholegrain mustard
1 teaspoon pure maple syrup or honey
1/4 cup lemon juice
1/3 cup extra-virgin olive oil
Cook asparagus in salted boiling water 30-45 seconds, drain and plunge into iced water. Drain once cool. Heat a large frying pan over medium-high heat, add a few glugs of olive oil and cook capers until crispy, remove and set aside. In the same pan, add another glug of olive oil and cook the bread cubes until golden, adding the lemon zest in the final few seconds of cooking to crisp up too. Remove from the pan and set aside until cold.
Meanwhile, combine mustards and maple syrup in a bowl, whisk then add lemon juice. Drizzle in olive oil and whisk to form a lovely emulsified dressing. Season with salt and pepper.
To serve, place lettuce leaves into a large bowl, top with asparagus, sliced avocado, Kalamata olives, and quartered eggs. Scatter over croutons, crispy capers and pea shoots/microgreens, if using and drizzle with dressing.