&nbsp
Spring has arrived and with it comes longer brighter days (hopefully!) and more time in the garden! We have had a few new, interesting and mostly exclusive products arrive in store this season, some of our favourites are below: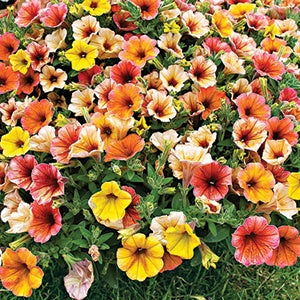 Petunia Indian Summer
Orange petunias are not often seen. Breeders in Israel have come up with this fantastic new variety.
Bacopa Scopia Gulliver Pink
Ideal for hanging baskets this semi-trailing sweetie is also early to flower
Brachyscombe Brasco Purple
A new colour in the successful range of larger flowered swan river daisies.
Lavender Purpleberry Ruffles
Eye-catching and new! Great for pots or borders with its compact habit and masses of blooms!
Tomato Costoluto Fiorentino
Large, brilliant red Beefsteak heirloom variety hailing from Florence that produces juicy, sweet fruits.
Crab Apple (Malus Flamingo)
Smaller, tarter fruit than an appletree, beautiful blooms and happy in almost any growing condition!
Geranium Aristo Orange
A unique new shade of peachy perfection. Large flowers and a long flowering period.