&nbsp
Camellias: Varieties, Choice and Care
Camellia lovers everywhere are rejoicing right now as it is flowering time! Camellias are an age old favourite for a reason. An evergreen tree or shrub that blooms through winter and spring. The flowers can be very showy and prolific adding a splash of colour to the garden and the foliage is elegant and lush. What more could you want out of a plant?
The great thing about our beloved camellia plant is you can do so much with it. For novice camellia lovers and growers you may not be aware that some varieties can make great hedges or be turned into standards, they are also fantastic when espaliered. Many camellias can also be fragrant, adding to their good qualities.
For those looking to purchase a new camellia, there are two main types of camellias used in gardening in New Zealand. Camellia Japonica varieties and Camellia Sasanqua varieties, there is also a number of hybrids available. To help you make the right choice for your space the differences are:
Camellia Japonica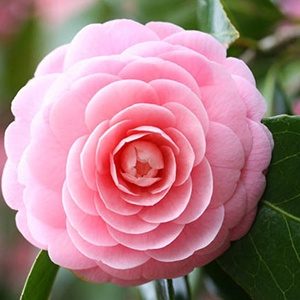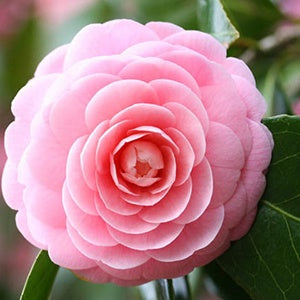 The leaves and flowers of the Japonica tend to be bigger in size than the Sasanqua varieties, the leaves themselves are quite glossy in appearance. The flowers can be a range of different types from single, to semi-double and double. They make great specimen trees as they tend to grow larger but they do prefer a part to full shade position in the garden. They are generally a slower growing plant than the Sasanqua. They flower from winter to late spring.
Camellia Sasanqua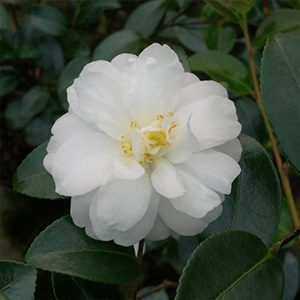 Sasanqua varieties are a faster growing plant that tend to be used more as hedges or standards. They have slightly smaller flowers and leaves, the flowers tend to be either single or semi- double and are very prolific. They can grow in full sun and shade. The flowering time of the Sasanqua are often a bit earlier starting in Autumn and lasting until late winter.
Hybrids
Hybrids are a cross breed between two different types of camellia, taking qualities from both, often getting the very best attributes such as cold and sun tolerant plants, good form and prolific flowering.
Plant Care
All camellias prefer a free draining soil with loads of organic matter and slightly acidic soil. Bulk up your planting area with plenty of compost and/or manure such as sheep pellets. Adding bark mulch or sphagnum moss can help make conditions more acidic for camellias. Alternatively, acidic fertiliser specific to camellias is available in most garden centres.
If you want to plant a camellia in a large tub or container, buying a camellia specific potting mix will be beneficial for this plant to thrive, there are a number of brands available. When feeding your potted camellia, look for a controlled release fertiliser that is safe for use in pots.
When camellias are young, especially during the warmer months, water frequently and don't let the soil dry out, but make sure the soil drains well. Mulching is very beneficial for helping keep the soil moist.
The most important time to feed your camellias is straight after the plant has stopped flowering as this is its main growing season, it is also the best time for pruning, shaping and hedging.
Choice
 Now that you know what the best variety is for the space in your garden, the choices are almost endless, heading into a garden centre or to a botanical garden may be a good way to check out all the wonderful flowers. A list of some of some of my favourites are:
Sweet Jane
Sweet Jane is a hybrid camellia that bursts with flowers through winter and early spring. It has a long flowering time and the blooms are white with a pink tinge on the edges. This one is perfect for tubs and smaller spaces and great for hedging. Plant in full sun or semi-shade.
Margaret Davis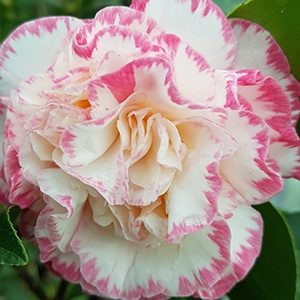 A Japonica variety that has showy ruffled flowers of white with dark pink edges. Blooms from mid winter to mid spring. Prefers shade or part shade areas.
Wildfire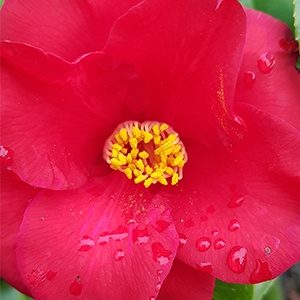 There is just something about its palm sized bright red blooms that I love so much. A perfect showy specimen that loves a shaded position.
Adorable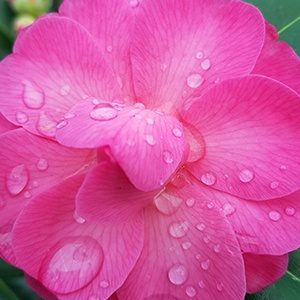 A hybrid variety that enjoys a part shade position. It has gorgeous double pink blooms that flower from late winter.
Our monthly garden newsletter is full of great tips to get you inspired, giveways and latest offers, plus we'll let you know of any special events, workshops or sales coming up. We never share your email address with anybody and you can unsubscribe at any time.