&nbsp
Grow a Tea Garden at Home
But indeed I would rather have nothing but tea.
– Jane Austen
Whether you take your tea hot or cold, all the herbs you need for the perfect cup can be planted in your own garden. When you grow a tea garden, the possibilities are endless. You can experiment with different combinations of herbs to make pure herbal blends, or mix them with your favourite black, green or white tea for added flavour.
We've made a list of some of our favourite tea ingredients that you can grow at home.
Chamomile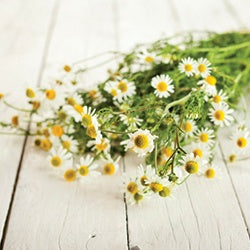 Benefits
Chamomile tea is a great sleep aid, but not only that, it can help reduce stress. It boosts immunity, eases cold symptoms and can soothe stomach aches. Plus chamomile flowers are gorgeous, which will add a touch more loveliness to your garden.
How to Grow
Chamomile can be grown from an established plant, or you can buy Mr Fothergills seeds at your local Palmers. It is easy to grow and doesn't require too much care. Chamomile prefers part shade to full sun and a dry soil.
Mint
Benefits
Mint is a refreshing and stimulating drink which is a great substitute for caffeine. It is also aids in quelling stomach indigestion.
How to Grow
Mint is a low ground cover that anyone (even the blackest thumbs) can grow, however it is invasive, so be sure to grow it in a pot or other controlled area before it takes over your whole garden. It also comes in a range of varieties, so pick your favourites! Mint can be grown from seed, however, if you can't wait, pop in to the herb section at Palmers and grab a punnet.
Roses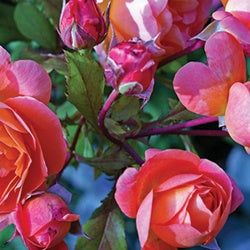 Benefits
Not only is the aroma of roses heavenly, the leaves, buds, petals and hips can all be used in tea making! Rose hips are the round portion of a rose just below the flower. These "fruits" contain the seeds and are 20 times richer in vitamin C than oranges, although their vitamin content decreases quickly through drying, brewing, storing and so on. Regardless, they provide a good boost to the immune system!
Make sure your roses are free from pesticides before you add them to your hot drink. Old fashioned fragrant roses work well, pink roses usually have the most flavour and fragrance.
How to Grow
Roses are generally easy to grow and keep happy, providing they receive around six hours of sun per day and are well fed and watered. Check them regularly for disease or insects. For more information on how to grow roses, click here.
Lavender
Benefits
It may have never crossed your mind that lavender can be used in tea, but it is divine! Lavender can help to reduce anxiety, stress and can help with insomnia.
You will need to use culinary lavender. There are hundreds of varieties of lavender, but many are specifically grown for their excellent oil properties, not for eating. The best edibles are English lavender varieties (Lavandula angustifolia) like Hidcote, Munstead, and Lady.
How to Grow
Lavender loves sun and well draining soil. Do not over-water and ensure that they have good air flow around the plants.
Lemon Balm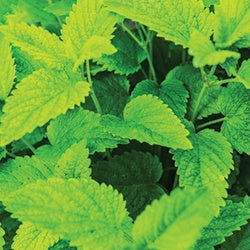 Benefits
Part of the mint family, lemon balm looks very much like mint, but smells like lemon! Aiding with both insomnia and anxiety, lemon balm has great calming properties.
How to Grow
Plant in well-drained soil with part shade. Like mint, it can also be invasive so restrict the area and remove the flowers as soon as they appear to control growth. Interestingly, mint expands by their roots, but lemon balm spreads throughout the garden with their seeds.
Bergamot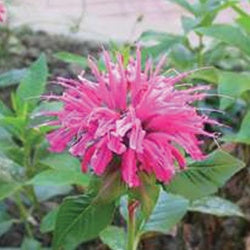 Benefits
Traditionally used by the Oswego tribe of Native Americans to treat a long list of maladies. Tea made from its flowers is often called "Oswego tea" and may relieve indigestion and fever. The flowers have a mild orange flavour (similar to the bergamot orange, which is what flavours Early Grey tea). You can mix with black tea to create an Earl Grey taste too!
How to Grow
Bergamot will tolerate some shade but prefers full sun, like most herbs.
Raspberry Leaf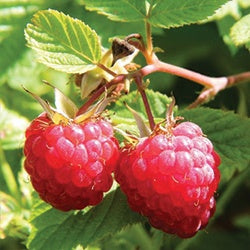 Benefits
Raspberry leaf can help to boost the immune system, increase the metabolism, help to regulate hormones and help with inflammation. Raspberry leaf tea is simply made from the leaves of raspberries by drying and crushing the leaves.
How to Grow
Raspberries love rich, well-draining soil. Find a sunny spot that is sheltered from the wind. Raspberry plants do not like sitting in water which is why well-draining soil is important, nor do they like to dry out.
Hyssop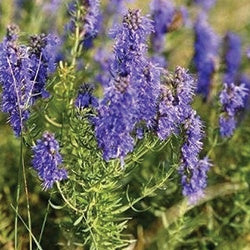 Benefits
Hyssop has been used as a medicinal herb since classical antiquity and its name is believed to be of Greek origin. Tasting like licorice, hyssop is believed to aid digestion and calm coughs.
How to Grow
Hyssop have relatively large root systems so give them a bit of space, or if you're planting in a container, make sure you choose one that is generous is size. Plant in areas with full sun or partial shade. They need soil that is well-drained and a bit on the dry side.
Borage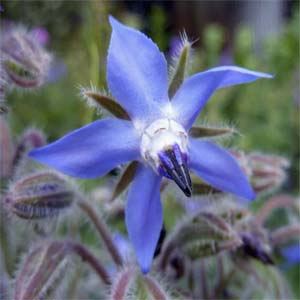 Benefits
Referred to as the "herb of gladness", borage has anti-inflammatory properties and has been used to soothe throat irritation, coughs and colds.
How to Grow
Prolific and easy to grow, plant in full sun and you will be rewarded with charming blue flowers.
Before you get started, here are the basics of herbal tea making:
– Always clean your herb or flower cuttings before brewing
– Keep your teapots and cups covered during brewing to hold in the steam and herb oils (that's where all the goodness is!)
– The best time to harvest is early in the morning after dew has dried, but before the sun is at its peak